The head of the Sweida provincial health authority told the pro-Damascus Sham FM that 215 people were killed and 180 injured in the attack, as well as 75 Islamic State fighters. Sheikh Miskeen lies on a vital crossroads between Damascus to the north and the government-controlled city of Sweida to the east.
Citing the Syrian regime's state media agency, NPR's Ruth Sherlock reports, "The news report says a motorcycle bomber struck the marketplace just after dawn".
At least 38 IS fighters were also killed, including the suicide attackers.
Damages after a suicide bomb attack are seen in Sweida, Syria July 25, 2018.
State television said the army was targeting IS in the province's east.
While the jihadis have lost control of all but a sliver of Syria's eastern desert and pockets of the southern countryside, the group has morphed into an insurgency and maintains sleeper cells inside territory controlled by both President Assad and Syria's rebels.
For the southern offensive, government forces redeployed troops from Sweida province last month to attack rebels and ISIS-affiliate militants in the nearby provinces of Daraa and Quneitra.
The jihadists launched simultaneous attacks on several villages northeast of Sweida city, where they clashed with government forces, state media and the Observatory said.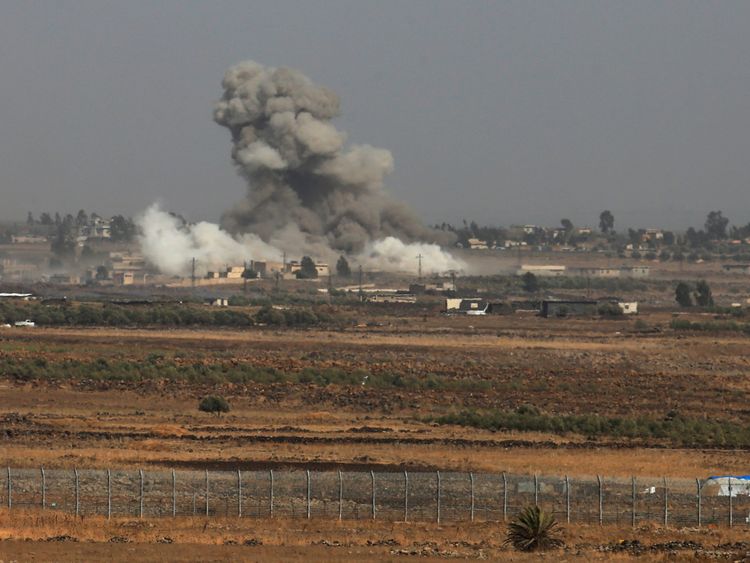 Image The death toll includes 62 civilians
While Islamic State still has pockets of territory in eastern Syria and in the country's south, it was driven from all other areas it once held in Syria and Iraq a year ago in separate offensives by the Russian-backed army and a US-backed militia alliance.
The attacks included a suicide bombing at a busy vegetable market. Two other attackers blew themselves up as they were chased by security forces, the TV said.
The coordinated attacks - the deadliest in months - had all the hallmarks of IS even before it claimed responsibility and were reminiscent of the group's horrific assaults during past years in Syria, already ravaged by civil war.
The assault in Sweida, near the border with Jordan, stunned a city not usually touched directly by Syria's civil war and violence by extremist factions including the Islamic State.
Bou Ammar, from Shbiki, said there weren't many men left to defend the village when the militants attacked.
The governor of the province, also called Sweida, told state news that the region had been secured, and that the Syrian air force had successfully bombed Islamic State positions.
The government is in control of Daraa, but continues to battle militants in Quneitra.
Sacrebleu! Pavard stunner wins World Cup goal of the tournament
The goal levelled the match to 2-2, although France ended up winning the 4-3 tie. "Thank you all for your posts". Pavard is the first European player to win the Goal of the Tournament accolade since its creation in 2006.