The Keystone Pipeline System is an oil pipeline system in Canada and the United States that was commissioned in 2010 and that is now owned exclusively by the TransCanada Corporation.
Moving defiantly to kick-start the long-stalled Keystone XL oil pipeline, U.S. President Donald Trump on Friday issued a new presidential permit for the project - two years after he first approved it and more than a decade after it was first proposed.
Friday's permit replaces one that was granted in March 2017.
The White House executive order won't have an immediate impact, said opponents.
More than 10 years after it was first proposed, the pipeline continues to face backlash from environmental groups and lawmakers over its potential to contribute to global warming. The 1,179-mile pipeline would carry up to 830,000 barrels of crude oil per day from the Canadian province of Alberta to the U.S. state of Nebraska and to the oil refineries on the Texas Gulf Coast.
Miles of unused pipe, prepared for the proposed Keystone XL pipeline, sit in a lot outside Gascoyne, North Dakota on October 14, 2014.
TransCanada Corporation celebrated the decision in a statement.
In a statement, TransCanada thanked Trump for affirming his support in the project.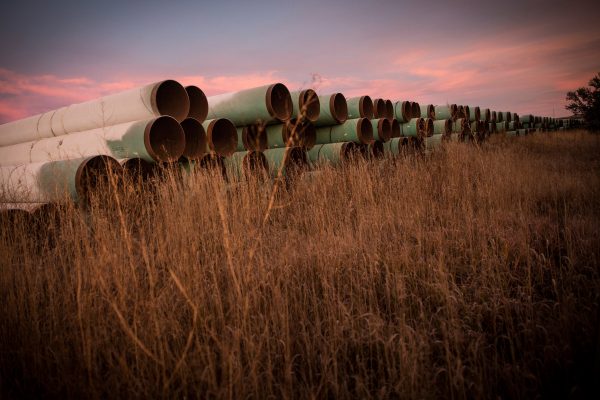 TransCanada, the firm constructing the pipeline, stated that President Trump "has been clear that he wants to create jobs and advance USA energy security, and the Keystone XL pipeline does both of those things", AP reported.
The pipeline faced numerous legal hurdles after several environmental groups sued the USA government over the 2017 presidential permit, and Keystone has been held up in the courts, most recently in Montana.
A federal judge in Montana has blocked work on the pipeline there, ruling more environmental review was needed.
The Keystone XL pipeline has been pending for more than a decade after environmental reviews and after former President Barack Obama rejected the project saying it would do little to benefit US motorists and would contribute to global warming.
But Anthony Swift, director of the Canada project at the Natural Resources Defense Council (NRDC) underscored concerns that the pipeline "would drive risky climate change".
TransCanada can start working on the Keystone XL pipeline in Phillips County, Montana, which is located just south of the U.S. If built, it would threaten our land, our drinking water, and our communities from Montana and Nebraska to the Gulf Coast.
Trump "is once again showing his disdain for the rule of law", Swift said, adding that the last time Trump "tried to ram this permit through he lost in court" and is likely to do so again. "We are going to continue to fight this unsafe tar sands pipeline proposal".
Brexit vote: What next after Theresa May's failure?
And in another blow to May, the Democratic Unionist Party (DUP ) also said it too would not back the agreement on Friday. On Friday, by a 286-344 vote, the British parliament rejected the European Union withdrawal agreement for a third time.