Trump ordered the withdrawal of all 2,000 USA troops in Syria in December after he said they had defeated Islamic State militants in Syria. Meanwhile, lines of men walked guided by their enemy, the SDF, to another corner of the plateau to be screened and searched by members of the U.S-led coalition.
The men, their faces covered, were divided into three groups - Syrians, Iraqis and those of other nationalities.
The U.S. -backed Syrian Democratic Forces (SDF) militia has slowed its attack to allow thousands of civilians to leave Baghouz, continuing an exodus that began when it announced it was launching a final battle for the enclave last month.
The surrender of dozens of men Thursday could be a sign that the IS fighters inside are starting to wear down.
The Kurdish SDF was waiting for all evacuees to leave before storming Baghouz, the last populated area still controlled by the once huge extremist caliphate.
The fall of Baghouz would mark the end of the rule of ISIL's self-proclaimed "caliphate" in 2014 over a populated territory, although some fighters are still hiding out in remote deserts or have gone underground to wage a guerrilla insurgency.
Gen Votel, who is leaving his position as head of Central Command in coming weeks, told a Senate committee that retaking territory from the militants was "a monumental military accomplishment but the fight against ISIS and violent extremism is far from over".
"We will need to maintain a vigilant offensive against this now widely dispersed and disaggregated organization that includes leaders, fighters, facilitators, resources and toxic ideology", Votel added.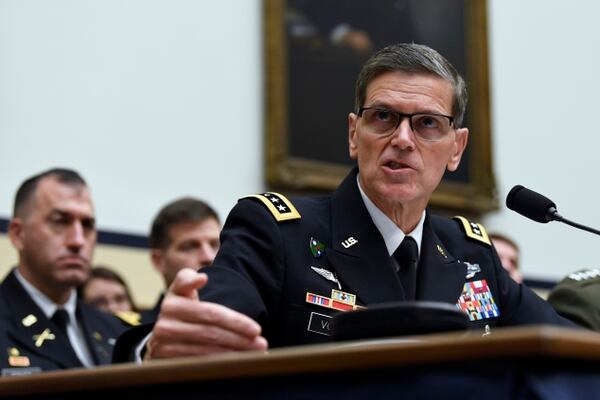 U.S. Central Command chief Gen. Joseph Votel testifies before the House Armed Services Committee
The US military commander on Thursday offered a grim outlook on the status of ISIS as US President Donald Trump prepared to declare territorial victory over the extremists in Syria and Iraq.
U.S. Central Command Commander Gen. Joseph Votel appears at a Senate Armed Services Committee hearing on Capitol Hill, Feb. 5, 2019.
AFP journalists taken into the battered hamlet watched the SDF stage a controlled explosion of a mine found on the side of a road during a sweep of the area.
"I didn't want to leave except to treat her, " the woman who identified herself as Um Fatima said.
With the latest evacuations, hundreds of IS fighters, Syrians and foreigners have surrendered or been captured.
After days without fighting, the SDF and the coalition launched an intense assault Friday that targeted an ammunition warehouse in the IS-held area and advanced forces inside, tightening the noose on the militants. Hundreds of Iraqi fighters and some French IS members have been handed over to Baghdad by the SDF.
Around a tenth of the almost 58,000 people who have fled the last IS bastion since December were IS fighters trying to slip back into civilian life, according to the Syrian Observatory for Human Rights, a Britain-based war monitor.
"Here is a situation where I believe we can use the same model" as worldwide tribunals that investigated atrocities in Rwanda and Yugoslavia, he told reporters after a meeting of the European Union's Justice and Home Affairs Council.
USA trade deficit jumps to 10-year high in 2018
President Donald Trump has said that one of the main reasons he had put steep tariffs in place was to combat the trade deficit. Capital goods imports increased 2.7 billion USA dollars, with imports of computer accessories rising 0.7 billion US dollars.