With Pickford appearing to not play the ball, there could have been a debate over whether Lee Mason should have dismissed him, but he made the most of his fortune by keeping out Ritchie's penalty down the middle with his legs.
Yet, ultimately, it was Everton manager Marco Silva who was left complaining to referee Lee Mason at the final whistle, claiming that Rondon had been offside when Perez scored the victor.
Rafa Benitez's side fought back after goals from Dominic Calvert-Lewin and Richarlison saw the visitors two in front at the half-time break. Then the third goal was a clear offside.
"There were five Newcastle players offside when the ball came back in for the third goal" said Everton's shell-shocked manager Marco Silva. Still, though, it's clear that his display didn't do enough to turn some supporters around. After we conceded we gave some belief to them.
Asked if Washington-born Pickford, taunted by Newcastle fans, having started his career at Sunderland, should have been sent off, Benitez said: "No".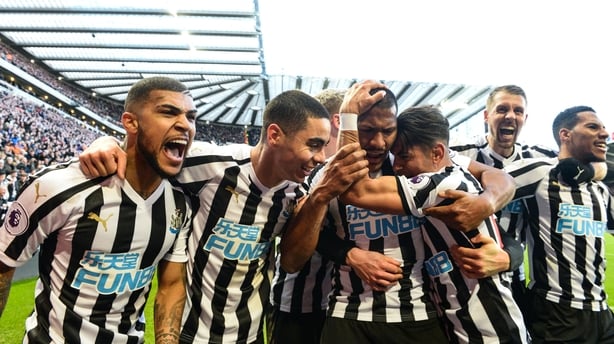 Newcastle players celebrate the winning goal
"Everything I have to say to our players I will say in our dressing room. We lost because it was our fault, because I'm sure if we had kept doing what we did in the first half and we did what we had to do in the first 15 minutes of the second half, we would have killed the match with a third goal".
"That togetherness with the fans took us to what we did on an wonderful day at St James' Park".
But Perez set up Rondon to get Newcastle back in the game after the interval, with the former then scoring twice in three minutes to lift the Magpies up to 13th.
The game became wide open with nine minutes remaining when Pickford could only parry Miguel Almiron's blistering strike and Perez steered the rebound home, and St. James' Park erupted when the Spaniard stabbed home from close range three minutes later to win it. I can understand sometimes the fans when he is giving the ball away, but he is capable of doing these things.
Offshore Wind to Provide 30% of UK's Power
Greenpeace said the 30 per cent target was too low, especially with problems in the nuclear industry. But Greenpeace said that renewables needed to be scaled up even more.