Finnish president Sauli Niinistö told Yle that he believed Trump was referring to their encounter in Paris last weekend marking the WWI armistice centenary.
The Finnish President told the newspaper that he meant to convey that although Finland is covered by forests, the nation has a good monitoring system which has helped to prevent catastrophic wildfires.
Brian Rice, president of California Professional Firefighters, described his comments as "ill-informed, ill-timed and demeaning to those who are suffering as well as the men and women on the front lines".
The president of Finland does not quite remember a conversation he had with President Donald Trump the same way Trump does.
Jerry Brown, the outgoing governor, told CBS's Face the Nation they had set their differences aside.
Carrie Armstrong, 57, of Topanga said she read the statement Trump posted on Twitter as the Woolsey fire in Malibu raged through the canyon and threatened her home.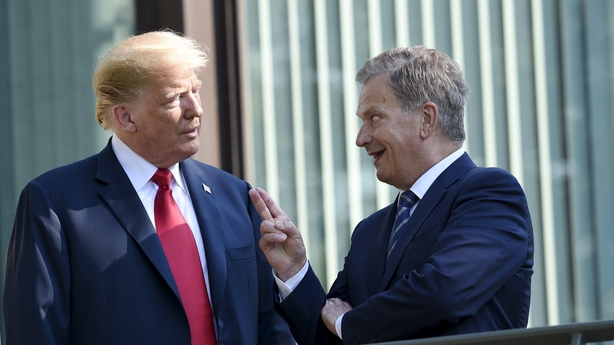 Donald Trump and Sauli Niinistö in Helsinki this summer
He said: "We have to do management, maintenance and we'll be working also with environmental groups".
Trump initially responded to the fires by blaming them on "gross mismanagement" of forests in a tweet on Saturday.
It comes after a visit to the fire-ravaged Paradise in California on Saturday, where Trump suggested people could be cleaning up leaves to prevent blazes.
But an expert said while Mr Trump may be right to talk about forest management, raking is not feasible.
So what is causing the California forest fires then?
Hashtags playing on some of Mr Trump's famous slogans were trending on social media in Finland, with many Finnish users making memes around #rakenews and #rakeamericagreatagain.
Finns have been posting pictures of themselves online raking local forests, joking about "raking America great again".
Matt Wallace shoots 65 to lead at halfway stage
After making birdie at the seventh and eighth holes, Wallace made a 20-foot par putt at the ninth. I just haven't capitalised on those chances. "I think you kind of know when your time's up".