An auction of contemporary artworks owned by George Michael has raised $12.3 million for charity.
The top prices on the night were achieved for works by artists who George Michael knew and collected in depth, or for pieces that had particular resonance with the star who sold over 120 million records in a glittering 35-year career.
Among the artworks that were for auction were Tracey Emin's Drunk To The Bottom Of My Soul (2002), Damien Hirst's The Incomplete Truth (2006) and Cecily Brown's Yet To Be Titled (2008).
Works by Michael Craig-Martin sold for a combined £277,500.
A spokesman for Michael's trustees said they were "delighted" that the millions raised in the auctions would go towards causes he championed, according to the Evening Standard.
In the early hours of 25 December 2016, the singer died in bed at his home in Goring-on-Thames, Oxfordshire aged 53.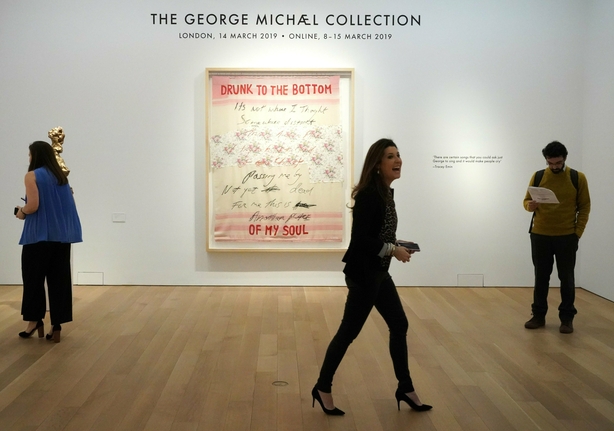 Works by Tracey Emin were among the pieces for auction
Jussi Pylkkänen, Global President of Christie's, and auctioneer for the night, said: "Tonight's sale was another great moment for the London art market and particularly for so many YBA artists".
"To realise such a significant sum, with proceeds from the sale being used to continue George Michael's philanthropic work, is what we've all been working towards".
Thousands of fans have reportedly visited the exhibition displaying George Michael's collection since it was unveiled on March 9. "We hope the charities who will ultimately benefit will be pleased with the outcome".
Michael, who died in December 2016 aged 53, was a keen collector of works by the Young British Art movement and was friends with numerous artists.
The action was held at Christie's in London and included works by Tracey Emin and Damien Hirst. It features a bull preserved in formaldehyde and surrounded with arrows.
The first major piece Michael bought, Bridget Riley's 1982 painting Songbird, is composed of a series of bright vertical lines. Emin created the piece in 2007 for Michael and his then-partner Kenny Goss.
England recall Te'o to play alongside Tuilagi against Italy
Replacements: 16-Ghiraldini, 17-Traore, 18-Pasquali, 19-Sisi, 20-Polledri, 21-Palazzani, 22-McKinley, 23-Castello. The Red Rose have scored 31 tries in their last five Six Nations fixtures against the Azzurri.