So, this seems like wholly appropriate good news today: according to ESPN, today Wrigley Field will receive National Historic Landmark status in the National Register of Historic Places.
Wrigley Field is the second-oldest ballpark in Major League Baseball behind Fenway Park and was the home of the Chicago Bears from 1921 to 1970.
National Historic Landmarks are buildings, sites, districts, structures and objects that have been determined by the secretary of the interior to be nationally significant in American history and culture, federal officials said.
A Hall of Fame recognition that will preserve the Friendly Confines for generations of fans to come. Wrigley Field was the first ballpark to have refreshment booths behind the stands, and the first to use an organ on-site to entertain fans during games.
The Ricketts have spent more than $1 billion upgrading the facility since 2014. Soldier Field, also in Chicago, was stripped of its landmark status in 2006 after it was rehabbed.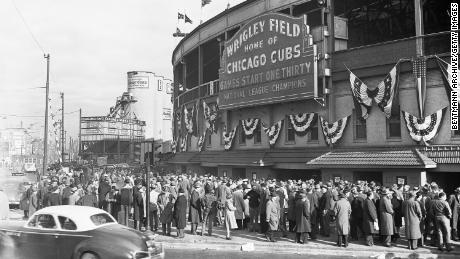 While this is definitely cool for anyone who goes to a Cub game to say they are also inside of a National Historic Landmark, it also has pretty significant financial ramifications for the Cubs. That's why Carl Rice's leadership was so important throughout the course of updates that saw almost all of Wrigley's concrete replaced as part of a massive facelift that also included sweeping additions of modern amenities and premium clubs.
Wrigley Field now joins other renowned historic places, including Fenway Park in Boston, among some 2,600 other landmarks across the country.
This designation will give the Cubs owners tax credits when they remodeled parts of the ballpark in the last several years. The team was already eligible for a 20 percent state tax credit, worth another $40 million, $11 million of which it received during the course of renovations.
Wrigley Field is the only remaining ballpark connected to the Federal Baseball League, the short-lived rival to the National and American Leagues.
Around 100,000 mink on Irish fur farms to culled over coronavirus fears
Veterinary authorities said earlier this month they had ordered tests in 18 farms in four administrative regions of the country. It is understood that the farms will be allowed to pelt the remaining animals to fill outstanding orders.