Reports said a truck fell from a cliff above and landed on the tracks.
At least 41 people have died and up to 200 remain trapped after a train carrying almost 500 people crashed and then derailed in a tunnel in Taiwan. "It was terrifying. There were whole families there".
The train, which was carrying more than 400 people, derailed near the Taroko Gorge scenic area on the first day of a long holiday weekend when many people were using Taiwan's extensive rail system, including many families with children.
Officials said the accident could have been caused by a maintenance vehicle sliding down an embankment and striking the train before it entered the tunnel near the coastal city of Hualien.
Dozens more have been injured, with rescuers trying to access several badly damaged carriages.
The eight-car train was travelling from Taipei to the southeastern city of Taitung and was carrying about 350 passengers.
The truck's emergency brake was not properly engaged, according to the government's disaster relief center, and the vehicle slid about 20 metres down a hillside. The train smashed into the truck while it emerged.
"It suddenly came to a stop and then everything shook", one survivor told local television.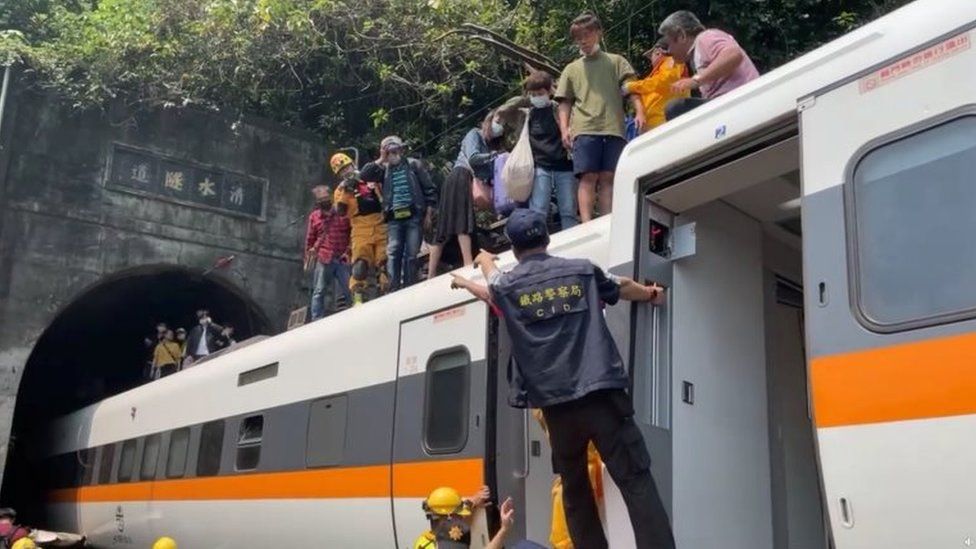 "We see people coming off the train and they look shaken and nervous", Chen Tzu-chong, a Tzu Chi team leader on site, told The Associated Press.
Taiwanese railway officials will be required to conduct sweeps along other tracks in the system to "prevent this from happening again", Su Tseng-chang, the country's premier, said.
The accident occurred at the beginning of a long weekend for the traditional Tomb Sweeping Day holiday.
Taiwan's mountainous east coast is a tourist destination. The railway that snakes down from Taipei hugs the coast and is known for its tunnels, in one of which the crash took place.
Taiwan's state-owned railways are generally reliable and efficient, but have had a patchy safety record over the years.
People further back in the train were able to walk away from the crash comparatively unscathed. With much of the train still trapped in the tunnel, escaping passengers were forced to scale doors, windows and roofs to reach safety.
In 1948, 64 people are estimated to have died when a train burst into flames in northern Taiwan.
In 1991, two trains collided in Miaoli County, western Taiwan, resulting in 30 fatalities and injuring more than 100.
Biden enlists Cabinet members to help sell his infrastructure plan
Democrats control both chambers of Congress, but their majorities are fragile, especially in the Senate, where there are 50 Democrats and 50 Republicans.